Post
Pictured above:  Ghost shaped sharp cheddar cheese slices and whole grain crackers — great as an after-school snack, a classroom party offering or on a Halloween party buffet table.
Above:  Hand-carved clementine jack-o-lanterns, the ultimate in-classroom party treat.  Last year we made around 50 of these and they flew off their trays faster than a witch making a hasty getaway on her broom.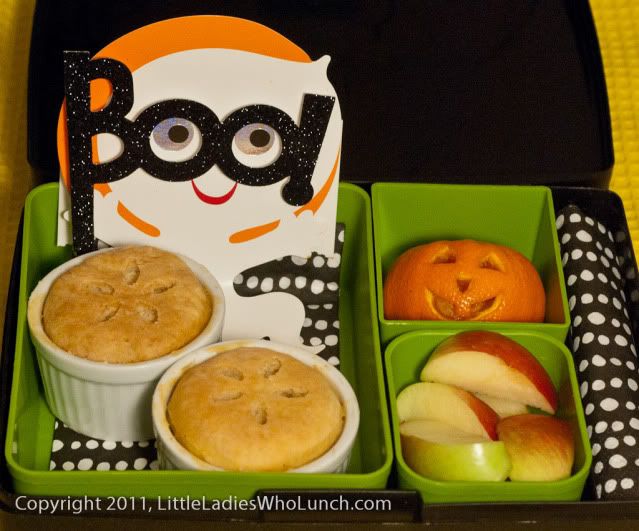 Halloween bento:  Mini chicken pot pies (recipe to be posted Wednesday, October 12) and seasonal fruit (honeycrisp apple slices; hand-carved clementine)
Halloween dinner:  Individual shepherd's pie (made from ground turkey and vegetables and a mix of yukon gold mashed potatoes and whipped sweet potatoes — recipe to be posted this Friday, October 14).  This idea was inspired by a post by Gina Homolka.
Delicious, moist whole wheat pumpkin muffins with added flax other healthy goodness…with dark chocolate chunks (recipe to be posted this Thursday, October 13).  Don't underestimate the punch they pack in mini form!

_________________________________________________________

Ahhh….Halloween, an absolute favorite holiday of mine.  I love everything about it, except maybe the excess, and only then because I want the kids to indulge but not end up with tummy aches galore (plus there is that little dietary issue of ours, and lets face it — there are plenty of other holidays and birthdays right behind this one, so even kids who aren't on a "restrictive diet" could probably do well with a gentle reining in). 
We *love* trick or treating, good candy and raging around the neighborhood for hours on end, but…  there has to be a method behind the madness in order for me to fully enjoy the beauty of it all.  Oh yes, my 5 point criteria before we rage is as follows:
A healthy and filling home-packed lunch at school
A nutritious after-school snack, and healthy party contributions should there be a classroom party
A hearty dinner that is portable and easy to eat, because the kids are always way too excited to park themselves down at the dinner table and eat a full sit-down meal before heading out to trick-or-treat.  Otherwise, if they don't eat before they leave the house, they'll naturally want to devour everything in their path.
An at-home high-quality candy stash for everyone to trade up to, should they wish (and my kids usually do prefer high quality dark chocolate over things like Snickers Bars).
To have the "Switch Witch" (wink, wink — they're on to that one big time, but still go along with it) come to our home at midnight and work her magic, switching up all the candy the kids don't want for a much longed-for present wrapped in shiny black paper with orange bows.  The kids place their offering to her near the front door, and bye-bye goes the nastiness (or at least a good chunk of it).
In short, it is absolutely possible to enjoy all the fun that Halloween has to offer while still managing to maintain some semblance of sanity.