Post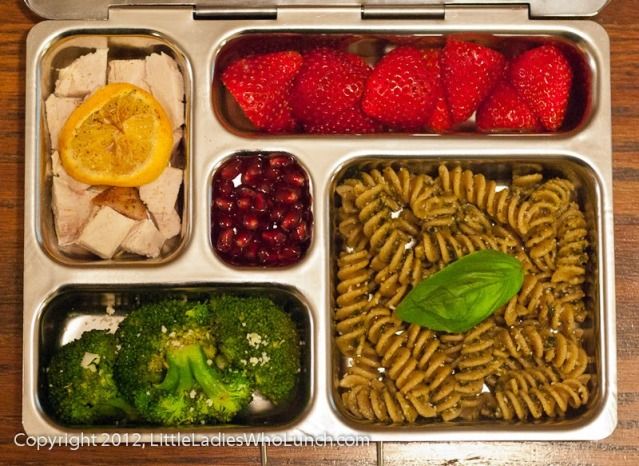 Whole wheat pasta pesto, roasted broccoli (with extra virgin olive oil, orange rind, salt, pepper, garlic), organic strawberries, pomegranate seeds, free-range, organic chicken roasted with fresh herbs and Meyer lemons
Pasta pesto.  Just a couple of years ago it was public enemy #1 in our house as far as the kids were concerned.  Think "ew, that slimy green stuff!" for starters, followed by a major meltdown complete with gagging and tears just for setting the bowl down on the table.  Really.  Even in the absence of the words "try a little."  
Flash forward to school Harvest Day, an event that is part of a special DOE School Food / NY State Department of Agriculture and Markets program called "Garden to School Cafe." Mostly though, it's executed through the hard work of our school Garden Committee Co-Chairs and the Chair of our Wellness Committee.
In short, Harvest Day affords our students the opportunity to play fun food-related games, explore a food expo featuring fresh veggies and homemade dips, toasted pumpkin seeds, freshly squeezed juices and apples from our region.  They also get the opportunity to sample three specially prepared dishes (baba ghanoush, potato salad sans mayonnaise and a winter squash medley, for instance) and vote on a winner.
The hi-lite of the day, though, is having the kids eat their lunch (which contains fresh herbs harvested from the school garden) in the school's "big yard."  One lunch in particular was herbed chicken and brown rice, fresh green beans and a super tasty salad bar that included pasta pesto (the basil came from the school garden) and a chick pea salad.
I'm not sure if it was the concept of "growing your own" that finally enabled my girls to settle down and try some of the food they had help tend to from seedlings, or if it was simply peer pressure because everyone else was sampling all the food, but pasta pesto has been a hit ever since.
For that reason and countless others, I am a huge fan of school gardens.  If you aren't fortunate enough to have one, I urge you to consider starting one, even if it's small and you have to use raised beds in the school yard or Aerogardens in the classroom. 
For information on the amazing benefits of school gardens, click here.  Please take the time to check out the link.